15 Minute Practical Bible Reading Plan
Are you are looking for a "Read through the Entire Bible" Bible Reading Plan PDF file that includes:
Initial easy to understand and practical Books of the Bible
Holds you accountable with weekly reminders and group setting encouragement
Auto-Delivered via email in a monthly plan format
Takes a reasonable amount of time in just 15 minutes a day

Bible Reading Plan for 15 minutes a Day
Try downloading our FREE Bible Reading Plan in PDF format. Every month, you'll get a FREE scripture reading plan auto-delivered right to your Inbox that will encourage and inspire you to keep reading the scripture every day! If so, simply enter your email address below.
Here's the good news — I know many people feel like they need to read the Bible in chronological order, but that's not true. You don't need to read the Bible chronologically. In fact, it might be a good idea to focus on the New Testament first, and then go back to the Old Testament. You'll start with the easier to understand books that are practical in life. With the New Testament books, you can apply what you've learned right away.
Over the span of 18 months or a year and a half, our Bible Reading Plan goes through the entire New Testament twice and the entire Old Testament once with our easy-to-follow scripture schedule. Plus, you'll read a chapter of Proverbs on a daily basis. Now that will easily set you up for a spiritually successful day!
How do you Read the Bible in the Entire Year?
My plan is for 18 months, however, if you'd like to read it in just 12 months, simply read the scripture reading plan for a day and a half every day. Be sure to check off each day as you go along and keep printable in your Bible where you left off. Each month's Bible Reading Plan will be sent by mid-month so you can keep up with a 12 month Scripture Reading Plan.
Scripture Reading Tips
Here are some great scripture reading tips before getting started to ensure you've read the scripture in the most effective way:
As you begin a new book of the Bible, be sure to read the Introduction. The intro should supply you with the author of the book, the audience, and other helpful hints.
Take your time, write neat notes in the margins of your Bible that are helpful but not distracting.
Keep a journal beside you to ensure you write down what God is telling you in his powerful Word. You'll enjoy going through it in the future seeing many answers to prayers or worries that don't come to fruition.
Click below to grab even more Bible Study Resources!
Ready to make some serious spiritual goals for this year? Want to draw even closer to God? Download our 15-minute Bible Reading Plan that encourages significant growth in your spiritual life with prayer advice and journals, spiritual goal setting, weekly and daily planner, and so much more! Make some brand new spiritual steps as you pray for God's help. Find out more by clicking the image below.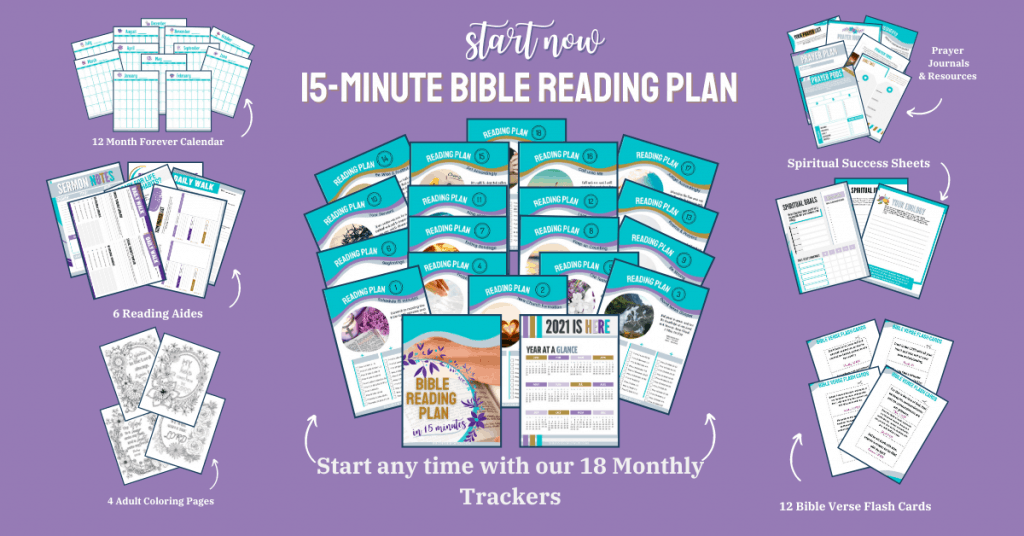 Pin it for later!